3D printing: The next Industrial Revolution?
"Three-dimensional printing … may have as profound an impact on the world as the coming of the factory did.  Just as nobody could have predicted the impact of the steam engine in 1750—or the printing press in 1450, or the transistor in 1950—it is impossible to foresee the long-term impact of 3D printing. But the technology is coming, and it is likely to disrupt every field it touches." 
The Economist, Feb 2011
A 3D printer is essentially a machine that can turn a digital design into a physical object.  A fairly simple process – and yet one which has the potential to transform the way things are made.  This technology, together with other digital fabrication techniques, is increasing being referred to as "the next industrial revolution" (Wired Magazine) – and yet most people are still unfamiliar with the concept.
DFEEST, Intel and The Australian Network for Art and Technology (ANAT) and RiAus presented talks and workshops around the theme of 3D printing. We examined the impact that these rapidly developing and increasing affordable technologies may have on many areas, including creativity, education, and industry.
Morning Forum (9am until 1pm)
In the morning, speakers from industry, education, research and the creative communities presented on a broad range of topics, from how they are using 3D printers in their work, through to the impact that these technologies are beginning to have on diverse fields including clothing and footwear design, architecture, engineering and construction, automotive, aerospace, and the medical industries.
The morning finished with a panel session in which members of  the audience had the chance to put their questions about 3D printing to a panel of experts.
Speakers include:
Dr Genevieve Bell (Intel)
Gavin Artz ( former CEO of ANAT)
Researchers from the University of South Australia
Afternoon Technical Workshop (2pm to 4pm)
In the afternoon, a limited number of participants learned about the technologies involved in more detail, from the basics of 3D design through to the science behind 3D printing.  Participants got the chance to try out some of the technologies involved themselves.
Related Content
Watch the video of Gavin Artz at the Science Exchange talking to InDaily News about 3D printing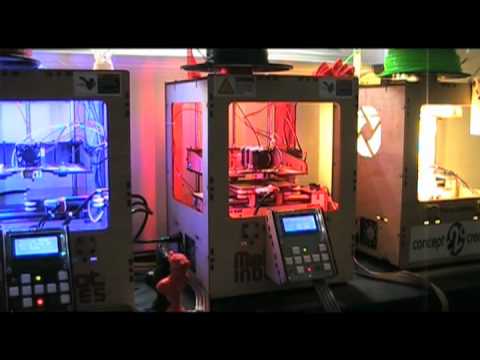 Read the blog post – 3D printing: The transplant jaw by Robyn Lambert 
Read the blog post – Meet the 10 year old who loves his 3D printer by Freya Dougan-Whaite  
View Dr Jonica Newby's 3D printing story on ABC TV's Catalyst program 
Image by MakerBot
Related Past Events:
---
Related Articles:
---